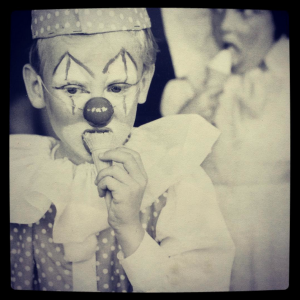 Welcome back folks – I've spent a fair bit of time recently sorting out my old mum's pad. It's one of those awful but necessary tasks that really engenders mixed feelings, (a bit like watching your mother-in-law drive off a cliff in your brand new car). On the one hand it's a veritable treasure trove of memories and on the other, well… my chum who talked of 'items with a huge dollop of sentiment hindering their disposal' described it beautifully.
Which brings me to the melancholy clown in the old photo at the head of this piece. This was something I unearthed in the process of sorting through stuff. The event was Chelsea Village Fair and the date must have been the summer of 1970 – pre-1971 anyway – because first prize in the kids' fancy-dress competition (which I won) was ten shillings. My overarching memory of the day though was the stench of the red-painted Ping-Pong ball nose. Maybe my mum should have entered me for the competition under the pseudonym Isaiah Kite… Also interesting to see that my lifelong love affair with ice cream was already in full bloom.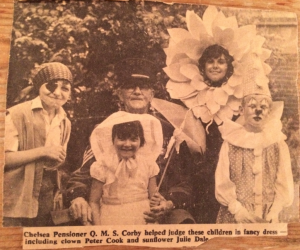 Thanks to my mum's inventive costumes, my cousins and I even made it into the local paper.
Now, this is where the treasure trove bit really starts. The Good Lady – being a purveyor of such goods – was rather taken with the backing paper of the photo's frame and, on peeling it back, revealed this time-capsule note.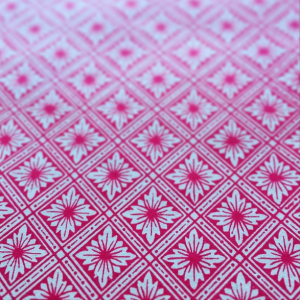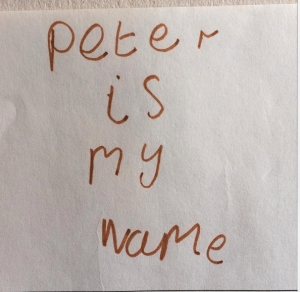 ––||––
We recently saw this in the window of a local premises. It looks really interesting and is a much more positive use for the building than it's former function as a place you went to pay parking fines.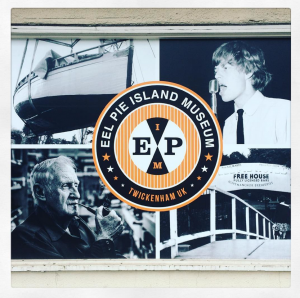 I love the photo bottom left of Trevor Bayliss, a long-time resident of Eel Pie Island. He looks every bit the inventor in this photo, but what I really admire him for is as a life-saver. His most famous invention is the wind-up radio, the introduction of which enabled people in remote areas of Africa to receive public information broadcasts about preventing the spread of AIDS. I seem to remember my dad telling me that when he first went to a gig on Eel Pie Island you had to be pulled across on a chain raft.
The photo of a young Mick Jagger brings us full circle in that, about the time I was born, he shared a famously squalid flat with Keith Richards and Brian Jones in the rough end of Chelsea (yes, it did have a rough end in those days). This den of sin was just ten doors down from the house in which I grew up. Apparently they weren't the best of neighbours…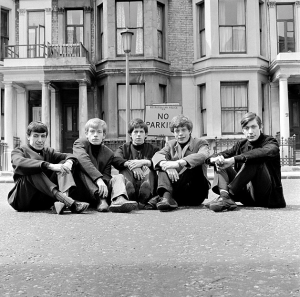 This old photo really fascinates me in that the band were able to sit in the middle of the road. It's now the main one-way artery from Earls Court, down through Chelsea and on to the Embankment. Funny what you notice in a kid's world – the most evocative things for me in this shot are the lamp-post and the railings; fifty years on, they feel like a pipe and slippers.
Until the next time…
Click here for my main website
Click here for my old blog archive
Click here for the Road Rat's Tips website