Here, then, is the first in an occasional series of 'legacy' posts – this one from almost exactly eight years ago.  Of note in the photo is me on the left in my usual photographic position of 'extreme stage-right, just out of any light' and the now-very-famous Imelda May on the right of the shot. Oh, and Parky.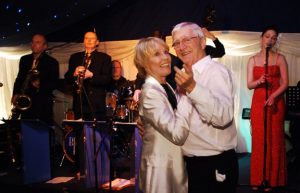 Monday 19th January 2009
"And they said romance was dead".  That's what I often find myself saying, with more than a hint of irony, on finishing pouring my heart out playing a tender ballad.  The reason for my cynicism?  Well, despite the fact that ballad playing is probably the facet of my playing of which I'm most proud, it's usually greeted with the sort of desultory ripple of applause normally reserved for two leg-byes at Leicester on a wet Tuesday afternoon.
Apt perhaps that I should use a picture of Michael Parkinson dancing to Blue Harlem, because his cricketing prowess once kept one Geoffrey Boycott out of the Barnsley cricket team.  Anyway the relevance of dancing will become apparent later on.
I know I've posted recently, but I really have to relate this tale to anyone that will listen. – Regular readers may remember that I was asked to play at the funeral of Dick Charlesworth a while ago and I have to say that, despite the sad circumstances, it turned out to be a most joyous occasion, with the New Orleans style band leading the hearse to the church, at which it was standing room only.  Loads of people came out of houses and shops and lined the route.  A popular chap indeed.  (See 'A Breed Apart 2' – link below)
Dick had a long-standing residency in his local pub.  The residency continues with John Barnes replacing Dick, and last week I was asked to appear as a guest front-line player (in lieu of JB who was away) with the house rhythm section.  The audience at this particular pub has always struck me as having a rather high average age and, having seen the same faces in the same seats, it would seem it isn't very transient.
I arrived just in the nick of time and noticed an elderly couple sat very close to the bandstand.  I also noticed that the male half of the couple was poised with pen and paper to write down the tune titles we played.  Having seen this rather 'anorakish' behaviour in the past (even to the extent where the punter awards star ratings to the various players on the bandstand) I decided the situation warranted mischief.
By a stroke of good fortune, we'd kicked off with 'There Is No Greater Love', which I announced as 'The Cheese Song'.  Game on, I actually started to choose tunes whose names could be suitably disguised.  We therefore played 'East of the Currant' (East of the Sun), 'The Touch of Your Staffords' (The Touch of Your Lips), 'Bike Up The Strand' (Strike Up The Band), and 'I Won't Chance A Stand With A Goat Like You' (I Don't Stand A Ghost Of A Chance With You).
Now, the whole point of this little piece is this:  when we played 'Ghost of a Chance', the elderly couple got up and danced right in front of us.  They held each other close and gently swayed with the music.  It was very different from the strenuous terpsichorean displays I'm used to seeing in jive clubs.  They were in their own little world as they smooched in front of the band, seemingly oblivious to the fact that they had a crowded pub watching their every move.
I have to say I found it all very touching and when we finished the tune I was able to say without any irony whatsoever "And they said romance was dead".  The lady turned to me, winked, and said "Not with us it's not!"
Click here for 'A Breed Apart 2'
I normally announce new blog entries with an email.  If you'd like to be included on this mail, or know someone who might, please let me know by clicking here.
Until the next time…
Click here for my main website
Click here for my old blog archive
Click here for the Road Rat's Tips website